I'm really happy with the way this petite little cabinet turned out, but there were definitely a few bumps along the way.
This one had been hiding out in my garage for a while now. I knew she was in need of a little TLC. ... Okay, a whole lot of TLC!

She was missing her original mirror.
And I soon realized she was also missing her original doors.
Faux wood grain contact paper covered a pair of homemade doors. Bummer! They were going to have to go.
The shelf inside was cracked and warped, so it had to go too.

It was easy to break out the old shelf. But in order to get a new shelf inside, that center bar also had to be removed. Let's just say that the saw got a good workout on this project.
Thank goodness she was strong and sturdy.
I painted her in a soft shade of blue. It was an oops paint and I mixed it with my chalk paint recipe.

I distressed her lightly and finished up with a coat of wax.

A cute little backsplash filled in the space from the original mirror.

And a pair of baskets fit nicely on the shelf.
This one wasn't easy. But it always feels good to give a piece a new lease on life!
I'm linking to...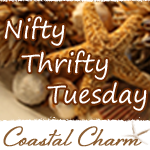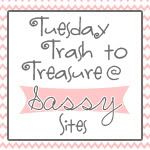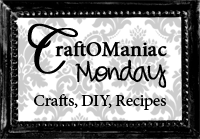 Show and Tell at Blue Cricket Design