Happy Tuesday! Welcome back for party day!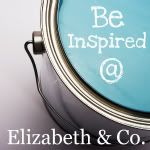 Sorry, no features today. My computer crashed! It's in the shop and I'm just hoping that it can be fixed. I really don't want to go computer shopping. I'm keeping my fingers crossed! I did get around to visit most of the links, although I didn't leave as many comments as usual. I'm on my husband's computer and I can't figure out how to stay signed in as me. Technology is amazing, but it sure can be frustrating! ... Hopefully I'll have features for you later in the week!



Now on the this week's party! The guidelines are simple...


* Link up your furniture makeovers, DIY projects, home decor, crafts, recipes, thrifty finds, etc... We want to see whatever is inspiring you at the moment!


* Grab a party button and please add it to your post!


* Be sure to follow along with us!


Now let's share some inspiration!