The inspiration for this furniture makeover came directly from the cover of Country Living!
As a long time reader, I love the way Country Living has been able to stay current and relevant, while maintaining that casual, comfortable and eclectic look that I find very appealing. The new look of Country Living is cleaner, lighter and brighter. And this issue is a perfect example. It's from May 2011
and I loved it so much that I saved it. It just represents a look that mak
e me smile!
This beautiful Ethan Allen drop leaf table complete with two generous leaves and six matching chairs was an amazing Craiglist find. An couple in our area was selling it in preparation for retirement and a move across the country to be closer to their grandchildren. We actually ventured out in a nasty storm with a tornado warning to make sure this one didn't get away! (Not something I would normally recommend, but it also came with a matching corner cupboard that you'll hear about later!)
I knew in an instant exactly where I was going with this makeover!
The table is painted in Behr's paint and primer in one in Silky White mixed with the chalk paint recipe. I love this white because it's clean and bright without being stark. And it's a true white without the creamy undertones.
The chairs are a custom shade of blue (meaning I mixed two colors together), both Behr paint and primer in one in a satin finish (my favorite) without using the chalk paint recipe.
I like the way the table has a bit of a flat, chalky finish, while the chairs have just a hint of sheen.
All the pieces were lightly distressed by hand. The table was finished with a coat of Minwax Finishing Paste Wax, while the chairs were finished with two coats of Minwax Wipe-On Poly.
And just for fun, I had to stage the table a bit like the cover too! The only thing missing is the cookies!
I'm really excited about the way this one turned out! It looks like a table just meant for family gathering!
You can check it out in person this weekend at our summer tag sale! All the details are on the sidebar. Hope to see you there! And like I said, there will be cookies - all homemade and yummy, of course!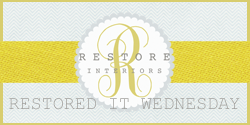 Jennifer Rizzo
Making the World Cuter