At long last, our bathroom renovation project is complete! I've shared a few sneak peeks, but here it is finally all put together.

Now to appreciate how far we've come, you're going to have to see the before. It will only hurt for a second...

This is the original upstairs hall bath for our children and guests in our 32-year old house. It was one of those projects that started and stalled many times over the years. It ended up being the very last room in our house to be updated.
I know, it looked like a really bad motel bathroom.

You sometimes needed a wrench to turn on the faucet in the shower. Doesn't everyone keep a wrench handy for showering?

And yes, I do believe those are sheep, roosters, horses and bunnies on the wallpaper. You know I can hear you laughing, right?

Okay, enough of that, back to the pretty pictures!

The room was completely gutted, no need to save a thing. It's a very small room and there were no options for changing the footprint. But I knew it could be pretty and functional. My goals were light and bright, clean and fresh; modern with a touch of vintage. The colors and some of the fixtures relate directly to the master bathroom down the hall. I really like continuity and repeating elements throughout a house. I think it helps to create great flow from room to room.

The cabinetry was ordered from Lowes and we found that you can get more customization (and at a lower price) if you order from the kitchen department instead of the bath department. We appreciated the savings and got the exact specifications for our space. The Corian counter top (in Sahara) on the other hand, had to be ordered from the bath department because it wasn't big enough to order from the kitchen department. Silly rules.

The faucets and shower hardware are all from Delta's Victorian line. We've used them throughout the house. Did I mention that I like continuity?

The light sconces, mirror, towel ring and hooks are all from Pottery Barn.

I very much prefer hooks to towel bars. I find that the towels are easier to hang up, they always look neat, they dry faster and they just look cute!
The shells and stones were collected on vacations. You may have heard that this family has a thing for rocks.

I love the creamy ironstone platters against the blue wall. They are a fun and a little unexpected.
I've had this little cabinet for years. It's moved around from room to room. I think it's finally found a home. And I love the addition of the vintage clocks.
The bead board was a must! I have it in every bathroom and my laundry room.

But it's the floor that gets the most comments.
They are wood grain tiles and everyone loves them.
(*Interceramic Timberlands Series in Nature Valley)
Aren't they yummy?

And yes, the floor is heated. Ahhh ... that feels so good!
The shower curtain is a white waffle weave from Target. (Hmmm, don't know where the underline came from and I can't make it go away!)
A light in the shower was also a must in this tiny bathroom with no natural light. No dark and dreary corners allowed.
And I think the shower tile really ties it all together. It is a combination of glass and natural stone. It just sparkles!
(*MA-12-LB 5/8 x 2 Glass and Stone Mosaic)
The shower corner shelves, trim and door threshold all pick up the stone in the tile.
(*Durango Honed Limestone)

And guess what, you don't even need a wrench to take a shower!

So there you have it. At long last, our bathroom renovation is complete. We are totally thrilled with the transformation. And after 32 years, it was about time for an update, don't you think?
Don't forget that you can vote for Megan's Pinterest Inspired Map Project here. It represents the places where Megan and Liam met, married and honeymooned. And it made the top three in the Map/Compass Contest over at Fireflies and Jellybeans!
Happy Weekend Everyone! See back here on Tuesday for our Be Inspired Link Party!
I'm linking to...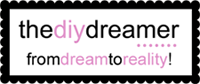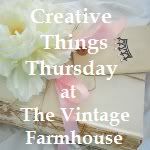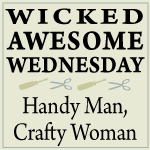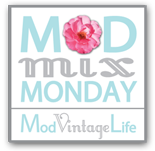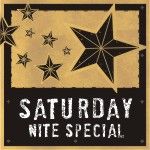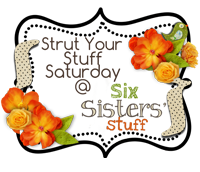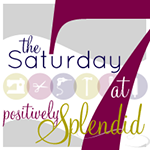 Fridays on Remodelaholic