This is the green cottage dresser that I shared last summer. It's one of my favorites! I love the bright happy color (Antibes Green Chalk Paint) and cottage style pieces have that relaxed comfortable feel that just makes me smile.

This one has been in a few different spots, but now I think it's now found a happy home in the sun room as a media cabinet.

Here is what this corner looked like over the holidays. We bought the media cabinet when we built this room almost twenty years ago. It's really a beautiful piece of furniture and I often thought about phasing out the dated hunter green color. But I knew that at some point, we were going to have to update to a flat screen TV. Well that time finally came a few weeks ago and flat screen TV's just don't work in these gigantic cabinets.

Now this is what the corner looks like today.

I think dressers make the most wonderful media cabinets. And it's such an easy project.
We just removed the drawer, cut a board to fit for a shelf, drilled holes for the cords and painted the inside - done! If I get bored with it anytime soon, I can just swap it out for another piece. And just like Megan's dresser to media cabinet transformation, we saved the drawer and this dresser could return to it's former life in a matter of minutes!

But for the moment, I am totally thrilled with the new look!




The cable box and blu-ray player fit perfectly on the shelf!

And the drawers provide ample storage for CD's and DVD's!

And of course we now laugh at ourselves for waiting so long to update the TV. We had no idea how bad the picture was on our old TV. We also treated ourselves to an air track speaker and the sound is amazing too. Even when I'm not watching TV, I just pop in a CD. Adele is serenading me at the moment. Modern technology, you don't know what you're missing till you update!
I love the bright pop of color and I'm happy to say goodbye to hunter green. But the corner now needs a little work. I ordered a comfy new slip covered swivel glider from Crate & Barrel to replace the wicker chair. And I'm on the lookout for a new floor lamp and art work for the wall. Something fun and interesting and a little more modern. Like everything, it's a work in progress!
If you're on the lookout for a new media cabinet, consider repurposing a dresser. It's an easy project and a great look! ... Or you could go this route, and just keep the media cabinet you already have. ... This is from a website called There, I Fixed It. Too funny!
And in case you haven't heard, we kicked off the new year with a brand new link party. You can link up whatever is inspiring you at the moment. Join us every Tuesday. We want to be inspired by you!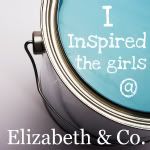 I'm linking to...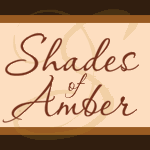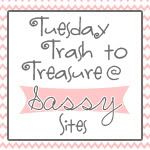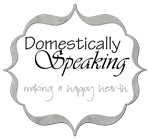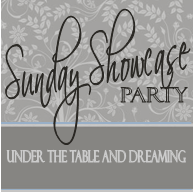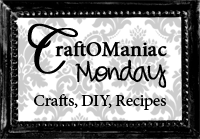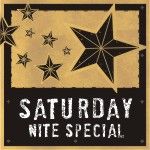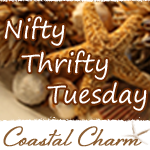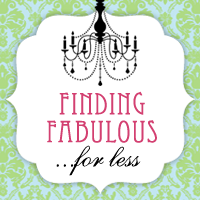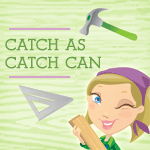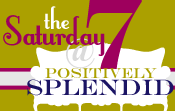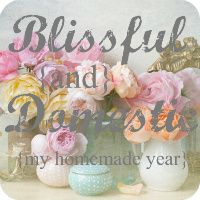 Tickled Pink at 504 Main

Friday Flair at WhipperBerry

Handmade 52 at Raising Oranges
Sundae Scoop at I Heart Naptime

Making Monday Marvelous at C.R.A.F.T.

DIY Home Sweet Home