Happy Tuesday! Welcome back for features and party day!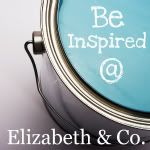 A huge thank you to everyone who came out for our spring tag sale last week. We have seriously awesome customers and friends. It didn't feel much like spring, but we had a blast in spite of the weather!
Now let's check out this week's fabulous party features .....
Leslie from Gwen Moss has a gorgeous new upholstered and monogrammed headboard. Don't you love it!
Terry from The Curator's Collection shared this beautiful and unique mid-century modern vanity!
This patio reveal from Leroy Lime has so many wonderful elements and this gorgeous table will totally knock your socks off!
These Lemon Madeleines from Thel's Kitchen look so light and refreshing!
And these Reese's Brownies from LouLou Girls look over-the-top decadent and delicious!
Thanks so much to everyone who linked up and linked back!
Now on to this week's party...
*Link up your furniture makeovers, DIY projects, home and garden decor, crafts, recipes, thrifty finds, etc... whatever is inspiring you at the moment!
*A link back would be appreciated, especially if you'd like to be considered for a feature.
We'll be back next Tuesday with features and a brand new party!