Happy Tuesday! Welcome back for features and party day!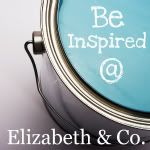 If it's been a little quiet here, it's because I've been immersed in a sea of all things sweet, pink and girly! Here's a little sneak peek...
I'll have lots of pictures later in the week. In the meantime, let's check out this week's awesome party features ...
I love the crisp and clean simplicity of white on this piece from Mary at Orphans With MakeUp! My next project is a china cabinet and it's going bright white too!
Elisha from Pneumatic Furniture Addict went really bold with this striped teal chest of drawers!
Terry from Forever Decorating gave this garage sale chair a beautiful update with a combination of new upholstery and painting the fabric. That's right, she painted the fabric!
Gail from My Repurposed Life turned an old chandelier into a rustic rope-wrapped candelabra just perfect for hanging out on the porch!
More rustic goodness from Amber of Junkaholics Unanimous. She picked up this farm table at a garage sale for just $10. After a little love, it was beautifully decorated for fall. Can't you just imagine Thanksgiving dinner here!
Danielle from Silver Pennies took her family apple picking and then came home and made some yummy apple muffins!
Pricilla took her family out for some serious pumpkin picking
and they ended up with 95 pumpkins in their front yard - how much fun is that!