Ok, this is one really cool retro dresser! But believe me, it took some serious time and effort to look like this.
I picked this one up at a yard sale. Well, I couldn't really pick it up, as this is probably the heaviest dresser I've ever worked on. Whew, good thing I go to the gym!
It was a really weird dirty looking cream color and had a very rough finish. My husband said it looked like it had been painted with a whisk broom. And surprisingly, the gentleman who helped me get it in my car said he had just painted it. Really?
Well, I sanded till my shoulders hurt. I went through so much sand paper. It kept getting all gunky. I wasn't totally happy, but finally decided to move on. After two coats of primer and three coats of paint, I ended up right back here. Yup, I broke out the sander and started all over! I knew I just wasn't satisfied. My husband heard the sander and stopped what he was doing to come and investigate. He took one look at me and asked if I wanted some help. Yes please! Thank goodness for a husband who enjoys sanding!


And here is the final result. I'm thrilled! Thrilled to be finished and thrilled with the result!
I kept the finish clean and modern, no glazing and no distressing. Nope, not even a little bit.
And the hardware reminds me of an adornment from a vintage car.
Yup, I really love the hardware and the sleek retro vibe. The color is one of my favorites, Sherwin Williams Network Gray. And lesson learned, do not move on to the next step until you are totally satisfied!
And check out this great sign! It arrived just in time to join the photo shoot.

It was custom made for me by Andrea of
Signs by Andrea
. Feel free to pay her a visit and say hello.

Andrea specializes in one-of-a-kind personalized signs on gorgeous weathered wood with a great vintage feel.
Andrea has generously offered to do a giveaway of one one of her signs right here at Elizabeth & Co. Watch for all the details coming up in June.
In the meantime, you have until May 28th to enter our
Burlap and Ruffles table runner giveaway
. And did you know our first blog birthday is coming up on May 30th? We should have a party!

As always, thanks so much for being here!

I'm linking to...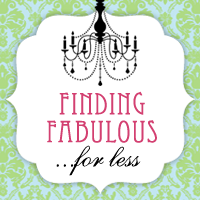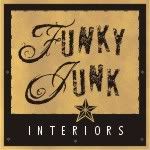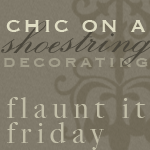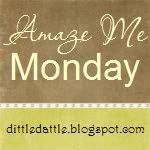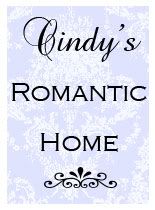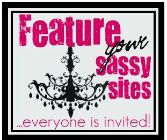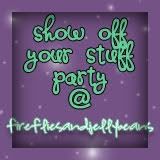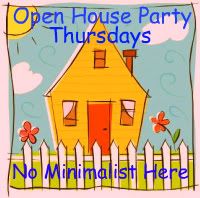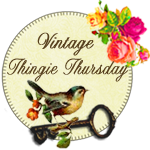 The Pink Postcard