Happy Tuesday! Welcome back for features and party day!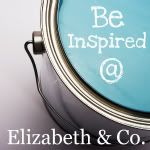 I hope you are all busy making plans for a wonderful Thanksgiving with family and friends - enjoy!
Now let's check out this week's fabulous features .....
I love the soft shades of white and blue that Cassie from Primitive & Proper used to give her lovely dining room a fresh new look!
This emerald green desk and chair makeover from Thirty Eighth Street is just gorgeous!
How amazing is this chair from The Curator's Collection!
These origami French stars from Dream Factory are really cool and don't worry, there is a template and a tutorial.
Cami from Tidbits is going to count down the days until Christmas with these charming little grain sack bags!
I love the rustic woodland look for Christmas and the idea of wrapping gifts with a gift from Kim at Hunt & Host!
And just imagine starting your day with these light and fluffy waffles sprinkled with walnuts and drizzled with honey from Diane at An Extraordinary Day!
Thanks so much to everyone who linked up and linked back!
Now on to this week's party...
*Link up your furniture makeovers, DIY projects, home decor, crafts, recipes, thrifty finds, etc... whatever is inspiring you at the moment!
*A link back would be appreciated, especially if you'd like to be considered for a feature.
We'll be back next Tuesday with features and a brand new party!