Happy Tuesday! Welcome back for features and party day!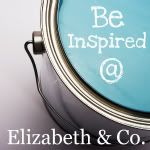 I always feel like I need a little time to recover from a tag sale week, but my brain is not quite cooperating. Instead of chilling out this week, my head is spinning with ideas for our holiday sale!
But enough of that, let's check out this week's fabulous features .....
Well first of all, this room from Thirty Eighth Street is stunning!
Now look closely at this settee.
Can you believe the upholstery was painted!
Ashley from Vintage Refined says she's a summer girl, but she sure has a knack for fall decorating!
Joan from Scavenger Chic just might have taken repurposing to a whole new level by using weeds from her yard to create this honeysuckle tomato cage tree!
I love the simplicity of this fall display from Kathleen at Charm Bracelet Diva At Home. And you don't even need a green thumb!
Not only do these Crock Pot Baked Apples from Kleinworth & Co. look delicious, but just imagine how yummy your house would smell while they were cooking!
And this refreshing 5-ingredient ice cream cake from T-shirt & Jeans would be just perfect any time of the year!
Thanks so much to everyone who linked up and linked back!
Now on to this week's party...